With the movie, Oz the Great and Powerful, coming out today, myself and some
fellow bloggers
are creating some fabulous bentos to celebrate. If you missed it, be sure and hop through yesterday's group of fantastic Oz inspired lunches, starting with
Keitha's Chaos
. And when you're done here, be sure to click on the blog hop button at the bottom of the page to continue through to some more unique and inspiring creations! I don't know about you, but the movie is on my to do list this weekend (hopefully), as is purchasing a copy of the original movie. I was horrified to find, when rifling through my dvds, that I only have an old VHS copy. What's worse? I have nothing to play a VHS on. I must fix this issue asap. At least, the kiddo has seen enough bits and pieces of the movie on tv to 'get' the lunch. And, with that, on to the lunch...
Watermelon with the wicked witch grape, cucumbers and red bell pepper with the Scarecrow, Lion, and Tin Man's hat (um, yeah, it
is
a hat wrapped in tin foil), sharp cheddar 'yellowish' brick road, rainbow of mini M&M's, and Dorothy is salami, smoked provolone, Trader Joe's roasted seaweed, and bread from the local bakery.
Dorothy was made using our
CuteZCute
cutter, including the facial features, which were all punched out using the cat insert. Love that tool!
Now, follow the yellow brick road on over to
El Lunch de mi Enano
, and others from there, for some more magical creations! There's no place like
Bento Bloggers & Friends
!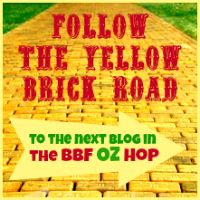 In this lunch...