Tomorrow is
Read Across America Day
, celebrated annually on Dr. Seuss's birthday. There is no better way I can think to celebrate than sharing a quiet corner with my daughter, and a pile of our favorite Dr. Seuss books, and there are a lot of them! I grew up with Dr. Seuss. I don't know a kid that hasn't or doesn't. From simple board book stories like
Mr. Brown
to horribly fantastic tongue twisters to
Oh, the Places You'll Go
, which I received from my parents when I graduated high school, and everything in between, I really do love them all. And, now, with my own kiddo, I get to discover his humor, love, wit, and genius all over again, finding meaning in many of his words and worlds that I would have never found before I was a mom. Thank you, Dr. Seuss. You were, are, and will always be an absolute literary treasure.
It was so hard to decide what books or ideas to focus on for lunches, but I settled on
Green Eggs and Ham
,
One Fish, Two Fish, Red Fish, Blue Fish
, and a couple others (check back tomorrow). Say, see if you can see my inspiration in the pages of these books, too!
Cucumbers, pears, Swiss and cheddar cheese, hard boiled egg, and Applegate organic ham.
First, here are a couple quotes from
One Fish, Two Fish, Red Fish, Blue Fish
. "One fish, two fish, red fish, blue fish ... This one has a little star. This one has a little car. Say! what a lot of fish there are."
Hard boiled egg (that one had a little cheese star), cucumbers, pears, red Goldfish crackers (those ones have a little cheese car), and Swiss cheese.
For the cheese in these lunches, we just used inexpensive
Better Crocker food markers
. They go on more like a paintbrush than a marker, and because of that, are way nicer to work with than
Wilton
markers. I have yet to try
Americolor
, but they are pricey, and these seem to do the job just fine for now!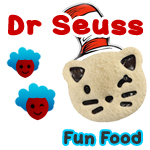 In these lunches...