I wanted to try out a salad for the little one that she could mix the components up by herself. It worked great and she ate it all, so I think this will be a great way to incorporate new vegetables and get her out of her usual cucumber and bell pepper routine. Today I realized I need to get a shamrock cookie cutter pretty darn soon too.
In the bottom half is a salad of lettuce, cucumber, toasted sunflower seeds, Bacos, and ranch dressing. In the top half is Trader Joe's veggie straws, smoked turkey, mozzarella cheese, and in the container are a few M&M's.
I keep seeing these fantastic ideas at fellow bloggers sites, and recently have seen some blog hops. I think that is a fantastic idea to support each other and also make it easy to navigate when someone is looking for something in particular. So, I'm joining in this time to the St. Patrick's Day blog hop. Follow the link in the graphic below and hop around to get all sorts of wonderful ideas from some fabulous people!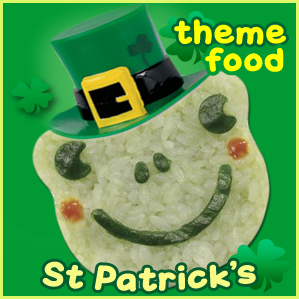 In this lunch...